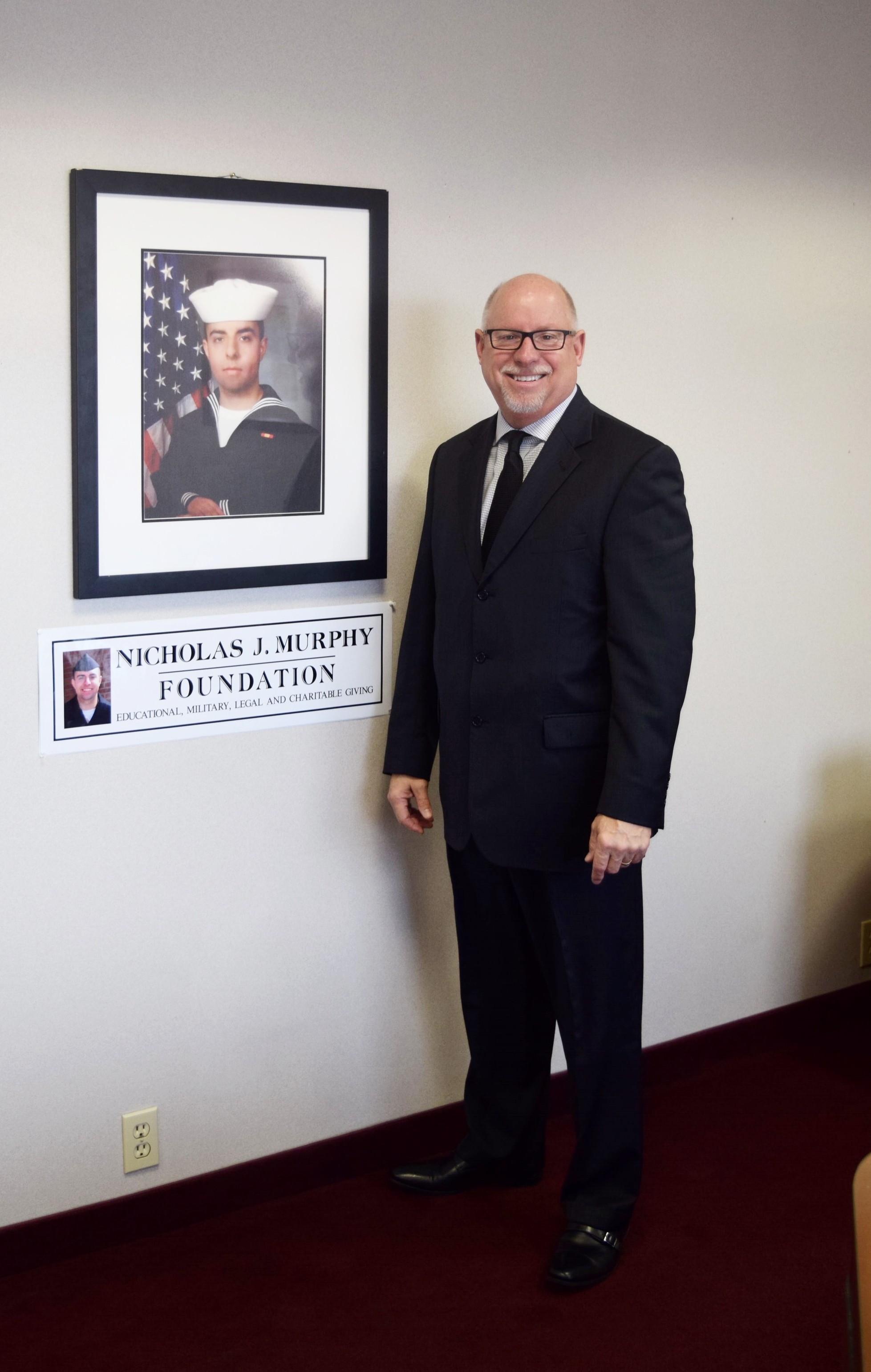 Nicholas J. Murphy Pro Bono Clinic
On November 19, 2016, Nicholas James Murphy was killed as a pedestrian walking with his fellow sailors in the crosswalk in Pensacola, Florida. Nick is the third son of four children that Theresa and G. Edward Murphy have, the cousin of Jeffrey M. Dunn, and the nephew of Teri L. Dunn. Nick was living his dream of trying to become a Navy SEAL and had enlisted in the United States Navy to do so. Nick was a true hero on the day of his death and continues to be one. When he was killed by a motor vehicle hitting him, at the last second before he was killed, he pushed one of his sailor friends out of the way and saved her life. In addition, he continues to save more lives. Because Nick was so healthy except for his head injury, all of his organs were able to then be donated to save others in need. His organ donation resulted in an additional five other people being saved. As a result, the tragedy for the Murphy & Dunn family has resulted in the gift of life to six other families throughout the United States. You can see Nick's story by watching his video: American Red Cross Heartland Hero 2017
Although we do not know why bad things happen to good people like Nick, we do know that God has a plan for all of us and this is just part of that Plan. It was told to us that it is not the number of years that you live that counts, but the life in those years. Nick Murphy definitely lived a full life in the short 19 1/2 years he was alive. He was truly a great son, brother, nephew, cousin and friend to all who knew him. It is in his honor that we have created the Nicholas J. Murphy Foundation and the Nicholas J. Murphy Pro Bono Clinic to help military families in need. We are "Paying it Forward" on Nick's behalf by helping those that need us most.
About the Clinic
The Pro Bono Clinic offers free family law legal services to those clients who are active duty military and veterans for us to pay them back for their service to our country. Nick loved trying to become a SEAL and his time in the Navy, and we recognize the sacrifice, bravery and commitment it takes to serve our country. That is why we have dedicated this clinic to helping those Armed Forces families in need that have cases involving children or family law related matters. The attorneys and paralegals at Murphy & Dunn will now honor Nick Murphy by giving back to the local community by undertaking a substantial amount of pro bono legal work each year on his behalf. Nick fought his hardest every day to be the best he could be. He was truly "The Man in the Arena". We are going to support those like him. To date we have taken on 66 cases and given away over $340,000 worth of free legal services.
Please contact our office today to learn more about using our volunteer services if you are connected to the military and Armed Forces. Please complete our Contact Us intake form as well to start the process. We will review your circumstances to see if you qualify and contact you to see if we can help.
As well, we hosted the "Fairways for the Armed Forces" Charity golf outing the last two summers to support the Nicholas J. Murphy Foundation at Mt. Hawley Country Club. Both events were a huge success raising over $125,000.00 for the Nicholas J. Murphy Pro Bono Clinic and the educational, military, charitable giving done through the Foundation. We invite you to be a part of our Foundation to honor Nick Murphy.